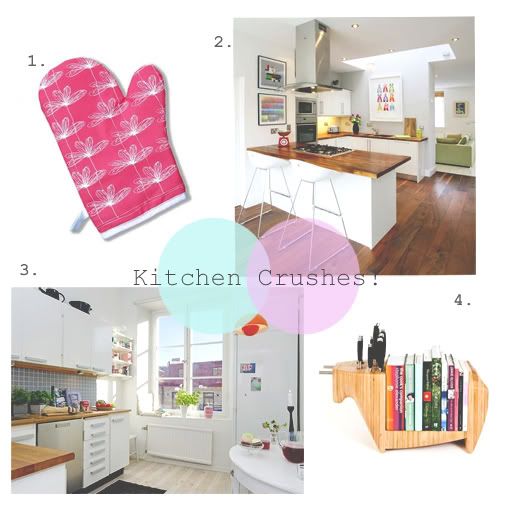 I have to put my hands up and admit I quite have a thing for kitchens... and the whiter they are, the better! My kitchen is white, but it's not as groovy as these, no way. So I thought I'd share my kitchen crushes with you this week.
1. I totally love this oven glove by Rachael Taylor designs, you can them buy
here
at the Bouf store, so cute! 2. A lovely white kitchen via Pinterest - I love the way the hob is on the breakfast bar so you can chat to your friends and family while you cook! (if you know the source please let me know!) 3. Another cool white kitchen from freshome
here
. I could see myself standing at the bright window here drinking a cup of tea, while soaking up that all that sunshine! ...and 4. the groviest kitchen 'thang' I've seen in a long time - the Kitchen Bull from Torolengo
here
Tell me your kitchen crushes!!
I also have a crush on a juicing machine and an espresso machine at the moment. It's such a tough choice which to buy! Do I give in to coffee or healthy juices? In the cafe I used to work at we made this amazing breakfast juice which was more of a smooth juice mixture - we called it a 'Smuice'! It was so creamy and smuicey! Mmm, so refreshing too....
I think the new addition to my kitchen appliance family will be a juicer!